We have immense pleasure to introduce ourselves as BENCHMARK INTERNATIONAL L.L.C, the Trading Division of Manappat group and authorized distributors for various global brands in The Sultanate of Oman. MANAPPAT is one of the bigger business groups operating in the Middle East, are the leading distributors of specialized building materials in the United Arab Emirates since 1992 and their business expands from H.O in UAE to Oman, U.K and India with major shares in Fire-Fighting systems, Interiors, Hospitality, Foods, MRO consumables,etc.. Manappat Group exclusively distribute Thermal insulation products, Water-proofing products, Non-Woven & Woven Geotextiles, HDPE Geomembranes, Valves, Specialized automotive aftermarket, Industrial, MRO / Oil& Gas lubricants, adhesives and consumables, Building Material products, Safety and Specialty Products etc. We have been representing USA, UK, Europe and GCC based ISO 9001-2000 certified manufactures for different construction/Infrastructure related products including for more than 12 years.
Our Product Offerings Include:
Products for Oil & Gas and Manufacturing
MAGNAFLUX (UK) NDT Inspection Chemicals ( MPI & DPT) and allied Equipment.www.eu.magnaflux.com
RUSTOLEUM (USA) Automotive & Industrial Lubricants, METAL& FLOOR Coating Systems, Specialty Products. www.rustoleum.com
AMBERSIL (UK) From CRC – Electrical Contact Cleaner, Gear &Wire Rope Lube, Insulation Varnish, Corrosion
Inhibitors, Specialty Lubricants, Food Grade cleaners, Food Grade Lubricants etc.
www.ambersil.com/ambersil/
ARALDITE Adhesives. www.go-araldite.com
BONDLOC (UK)-Anaerobic Sealants, Superglue, Thread Lockers, Anti-Seize etc www.bondloc.co.uk
HYLOMAR (UK) –Rolls Royce Approved –Oil Resistant Sealants and Gasket Makers – www.hylomar.com
BEARDOW ADAMS(UK) – Hot Melt Adhesives for Packaging Industry- www.beardowadams.com
GOOP (USA) Hand Cleaners (Smooth Cream, Orange with Pumice) www.goophandcleaner.com
AFTC (Netherlands) -Double Sided Tapes- www.aftc.eu
VELCRO (USA) -REUSABLE FASTENERS for Construction, Flooring, Cable Management, Renewable Energy, Wall Cladding, Decorative Panels. www.velcro.com
ASV (India) & MATRIX BV (Netherlands) Thread Pasts, Silicone Compounds, Valve Lubricants, Food grade & Specialty Lubricants – www.asvmultichemie.com
GESIPA (Germany) Blind Rivets /Rivet Nuts//RIVETING TOOLS, STANLY (POP Avdel) Break Stem Fasteners.- www.gesipa.co.uk
CLIMBFORCE ClimbPRO -Straight Aluminum Ladders.
TOYO, CARLSTAHL, GORGE TAYLOR, LIFTING GEAR- Wire Ropes, Shackles, Webbing Slings, Chain Blocks.
FENDALL (USA) Eye Wash Stations, HAWS (USA) Safety Showers
FORCEFLEX, KONG, IRONCLAD, RINGER IMPACT Gloves
PPE – Dotted/Welding Gloves, Specialty Gloves Safety Helmet, Respirators, Coveralls, Hand Held Gas Detectors.
INDUSTRIAL TOOLS & CONSUMABLES
GATE/CHECK/BUTTERFLY VALVES, GASKETS, CI/CS/SS/SEAMLESS & ERW PIPES
HPX (Belgium)-Specialty Tapes
DEACON (USA)-High Temperature Sealants upto 2000F.
THREAD PROTECTORS for Drill Pipes– Plastic and Metal
FALL PROTECTION EQUIPMENTS – Full body Harness, Lanyard & Manyard, DERRICK Man Harness, Self-Retracting Lifeline
EMERGENCY RESCUE EQUIPMENT-First Aid Kits, Spill Kits, Chemical Suit, Automated External Defibrillators
MARINE LIFE SAVING EQUIPMENTS-Life Jacket, Life Buoy, Wind Sock, Torch
CS, MS, GI, SS Pipes, Fittings, Flanges etc
Products for Automotive Aftermarket
RUSTOLEUM (USA) Automotive & Industrial Lubricants, Specialty Products.
AMBERSIL(UK) From CRC –Electrical Contact Cleaner, Gear & Wire Rope Lube, Motor Rewinding Insulation varnish, etc.
AFTC (Netherlands) Double Sided Acrylic foam Tapes
ARALDITE Adhesives
BONDLOC (UK) Anaerobic Sealants, Superglue, Thread Lockers
Products for Building Construction
ESSCOFOAM Extruded Polystyrene Heat Insulation Material from GIM, Kuwait
LAMA Water proofing products
NAS Tile Glue, Tile Grout
FRF Rockwool and Glass wool insulation materials
XTFLOR Raised Access Flooring, Vinyl Flooring, GEGGUS (Germany) Entrance Matting
SOLAR, VISTA, WAVES, IMPACT, MARS, SUMINOE Carpet tiles, LEEWAY Vinyl Flooring
VICTORY Sports and FLORESTA Engineered Wood Flooring.
RUSTOLEUM Floor Coating Systems, Metal Coating Systems.
CLIMBFORCE Aluminum Ladders, Aluminum Scaffolding
PROLINE, MATADOR, NORTILE Metal Ceilings & Steel Profiles
GEGGUS(Germany) Entrance Matting .https://www.geggus.de
Products for Infrastructure
GEOTEXTILES
HDPE Geomembranes from HUITEX Taiwan
PVC Geomembranes from ORGANIX -UK
EPDM Membrane from ORGANIX-UK
GEONET and GEOCOMPOSITES from SKAPS, USA
Geosynthetic CLAY LINER from KAYTECH-South Africa
GEOGRID from CHECKMATE Geosynthetics-USA
Raised Access Flooring, Carpet Tiles Etc
Thermal Insulation Products:
Esscofoam Extruded Polystyrene Boards which are used for thermal insulation, available in varying thickness and density according to the requirement. These are manufactured by GIM, Kuwait.

Water Proofing Products:
This includes APP and SBS modified Bitumen Membrane, Protection Boards, Primers and Emulsions which are manufactured by LAMA (UAE) and Imperbit Membrane Industries, UAE and other water proofing products..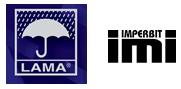 Construction Chemicals:
All construction chemicals including TILE GLUE, Bonding Agents, TILE GROUT, wall putty etc. manufactured by NAS Construction chemicals, UAE, also Build Plus Construction chemicals, UAE.
Non-Woven and Woven Geotextiles:
We are the leading suppliers of all types of geotextiles with varying roll sizes and GSM according to the requirement which are manufactured by Johns Manville Germany, Alyaf KSA and Prime Geotextiles UAE and Skaps USA.

Flooring Products:
We also have our very own FLOORING Division with supply of GEGGUS ENTRANCE MATTING, HAND TUFTED CARPETS, CARPET TILES, RAISED ACCESS FLOORING, VINYL FLOORING, SPORTS FLOORING and ENGINEERED WOOD FLOORING.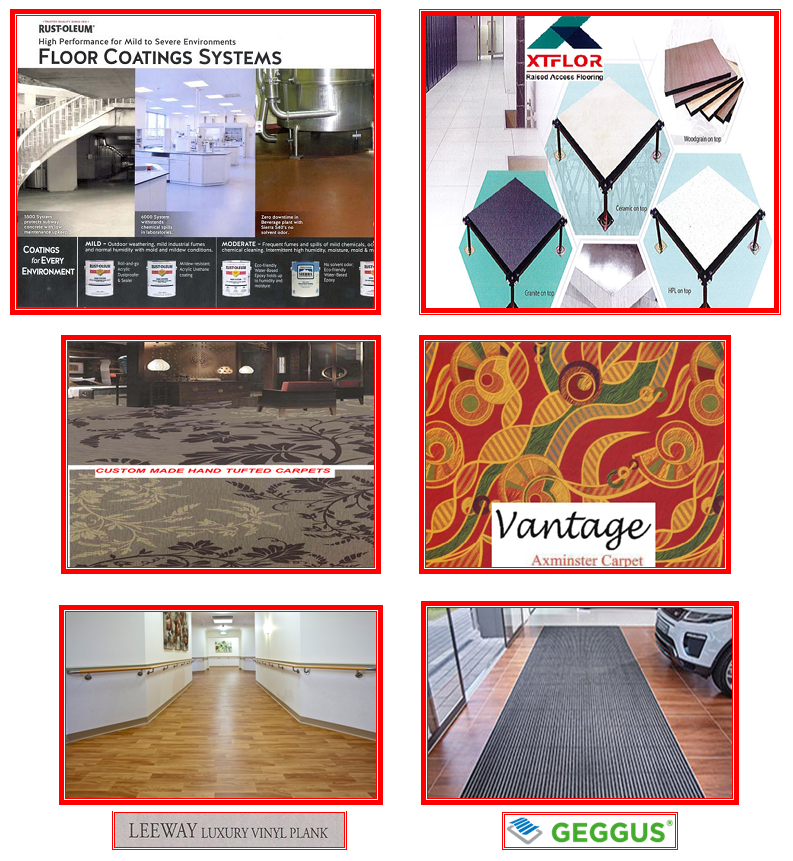 Industrial Consumable Products:-
Fire Protection Valves, ARALDITE Adhesives, RUSTOLEUM Lubricants Epoxy, METAL, Industrial & Floor Coatings, Consumables, PPE Items etc..
GATE VALVES (Material: – Ductile Iron, Cast Iron, Bronze)(Brands: – NIBCO-USA)
CHECK VALVES (Material: – Ductile Iron, Bronze)(Brands:-VIKING, NIBCO-USA, KENNEDY-USA)
BUTTERFLY VALVES (Material:-Ductile Iron) (Brands:-NIBCO-USA)
BALL VALVES (Material: – Bronze) (Brands:-NIBCO-USA)
GLOBE VALVE (Material:-Bronze) (Brands:-NIBCO-USA)
STRAINER (Material:-Cast Iron) (Brands:-MUELLER-USA)
TEST & DRAIN VALVES (Material:-Bronze) (Brand: – AGF -USA)
GAUGE TEST VALVE (Material:-Bronze) (Brand:-UNITED BRASS-USA)
AIR RELEASE VALVE (Material:-Cast Iron) (Brand: – VAL-MATIC-USA)
M.S, SS, GI Pipes and Fittings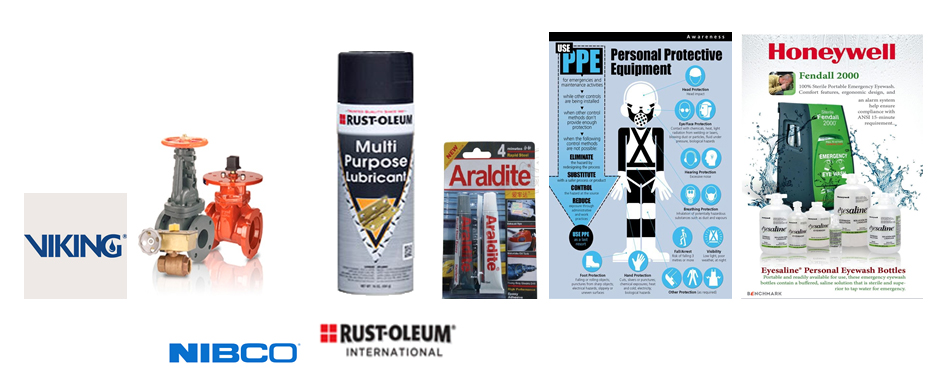 SOME OF OUR KEY CUSTOMERS:
Royal Air Force of Oman
Galfar Engineering & Contracting SAOG
Al Turki Enterprises / Al Tasnim Enterprises L.L.C
Oman Oil Company Exploration & Production LLC (OOCEP)
Special Technical Services L.L.C (STS)
United Engineering Services L.L.C (UES)
Salalah Methanol Company LLC (SFZ)
Oman Dry Dock Company SAOC
VANGUARD Reservoir & Surveillance Services L.L.C
L&T MFY (Sohar)
Special Oilfields Services L.L.C (SOS)
Sievert Technical Inspection LLC (Bureau Veritas)
Zawawi Trading Co. LLC (Mercedes)
SATA L.L.C (Porsche)
Zubair Automotive L.L.C
We, at BENCHMARK INTERNATIONAL L.L.C are always available to help and support our clients with immediate availability of Good quality products to ensure timely delivery of the material and constantly strive to achieve 100 percent satisfaction.
We look forward a mutual beneficial longstanding and prosperous business relationship.
Assuring our best services at all times & thanking you in advance for your positive consideration.
CONTACT PERSONS:
Mr. Damu Murali (Manager -Sales & Marketing)
Mr. Akhilesh Madhavan (Sales Engineer)
Mr.Nishanth.K (Sales Representative)
Benchmark International LLC
P.O. Box 546, P.C. 117, Muscat, Sultanate of Oman
T: +968 2479 7717 / 7578 / 7670
F: +968 2479 9943
M: +968 GSM 99492523
+968 GSM 91167424
+968 GSM 91384373
E: benchmark@benchmarkoman.com
www.manappat.com
About the Author